SportsBetting Sportsbook Features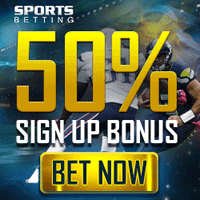 The last time I went to Vegas, I had so much fun betting on sports. I had never used a sportsbook before, because there are no land-based venues in my state. The same goes for anyone who doesn't live in Nevada or Delaware. And if you do live in Delaware, you know more than anyone that Delaware's sportsbooks aren't that great. I came home wishing I could take advantage of the Vegas sportsbook experience. Boy, am I glad I found the perfect solution: SportsBetting.ag. It's the next best thing to being right there in Vegas…actually, in some ways, it's even better. For example, you don't get the great bonuses at land-based Vegas sportsbooks, but you do at SportsBetting. Moreover, the convenience factor of SportsBetting makes it ideal for anyone who wants the Vegas experience but doesn't want to go through the hassle of making the trip. So let this SportsBetting review sell you on why this trusted site is so fantastic.
SportsBetting is all about action. From the layout of the site right down to the awesome special features like live in-game play, SportsBetting puts you right there in the middle of the action. It's fun, it's fresh, it's fast, and it's furious. It's got some of the most accurate odds you'll be able to find on the web. All the different deposit and payout methods make funding your account a hassle-free undertaking. Most importantly, SportsBetting is one of the safest and most trusted sports betting sites this side of Las Vegas!
Is SportsBetting Legal?
Yes. SportsBetting is legal as long as you are old enough to bet in your state. Some explanation of the law is required here, though. There are several laws that apply to sports betting in the United States, but they do not affect SportsBetting because the site is based in Panama City, Panama. If it were based in Panama City, Florida, it would not be legal, but that's a moot point, because it is based in Panama, the country, which is located south of the US, between Costa Rica and Colombia. There are several reasons for this, and they all have to do with various US betting laws.
The main law is the Professional and Amateur Sports Protection Act (we'll just refer to it as PASPA). It is the 1992 law that forbids sportsbooks from existing in 48 states. The two states that do have sports betting are Nevada and Delaware. This is because these two states traditionally allowed sports betting before PASPA was even in the pipeline. Some people think that PASPA should be repealed due to its unfairness in allowing two states to regulate their own sportsbooks. New Jersey, a state that ranks third in terms of revenue from betting, filed a motion against PASPA in the US Court of Appeals. Unfortunately, they lost, but the message is clear: states should have the right to regulate sports betting themselves.
Is SportsBetting Safe?

Yes, SportsBetting is one of the safer trusted sports betting sites you'll find. It's much safer than many other online sportsbooks. It has a solid reputation and millions of loyal members. It has been in operation since 1991 and has a gaming license. Some huge media giants (CNBC, ESPN, and Fox Sports come to mind) have advertised SportsBetting on their networks. SportsBetting's cybersecurity team works very hard to make sure that your identity and account information will never be compromised. They insure your safety by using encryption and ciphertext, which turns all of the site's information into coded messages that can only be unlocked with a special key. Also, your account is protected with a password that only you know, so keep it safe.
The nice folks at SportsBetting pride themselves on being open and honest with customers. They always pay out in a prompt and timely manner. It's very unlikely that you will ever have any major qualms with SportsBetting, but if you do, you can always contact their customer service department. You can reach them by phone or by email, and they are available 24 hours a day.
Who Can Join?
SportsBetting accepts players from all 50 states. The only requirement is that you have to be of legal age to bet in your state. The betting age varies from 18 to 21, with every state setting its own betting age. There are, however, a few states that don't specify what the betting age is. In these rare cases, the default age is 18. Just be sure to check your state age laws to make sure you are old enough to use SportsBetting.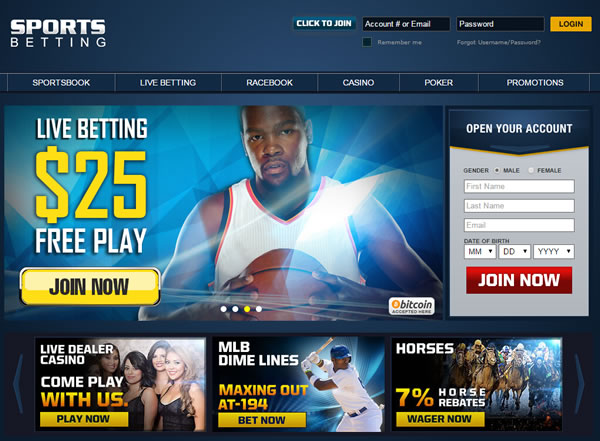 What Deposit And Payout Methods Are Available At SportsBetting?
There are many ways to fund your account at SportsBetting. The easiest method, and the one that I usually use, is credit or debit card. SportsBetting accepts all the major cards. In a few seconds, your money will be in your account. With credit cards, you have to deposit at least $50. Each card has a different maximum. Please note that there is a 6.5% fee for each transaction. Western Union/MoneyGram is another easy way to deposit money. You have to deposit at least $50 and no more than $900. A 2% fee is required for each transaction. Bitcoin is another deposit option. If you have a bitcoin address, you can transfer directly to SportsBetting's bitcoin address. There is no fee for bitcoin, and it takes less than 24 hours.
You'll find payout options aplenty at SportsBetting. Person to person is the number one payout method, with a minimum deposit of just $50 and a maximum of $600. Fees could be anywhere between $26 and $101, depending on how much you want to deposit. It's pretty fast, too. The transfer usually is complete within 12 to 36 hours. It is also very common for players to request check payouts. You can receive your check by mail, by courier, or EXPRESS. Each of these check delivery methods has varying processing times. Check EXPRESS is the fastest, but the fee is a little higher. Bank wire transfers and bitcoin round out the payout options available at SportsBetting.
One thing you should be aware of is that you aren't allowed to use credit or debit cards to make withdrawals. This is because of the Unlawful Internet Gambling Enforcement Act (UIGEA). This law was sneakily pushed through Congress in 2006 as an addendum to the Safe Port Act, a law that had absolutely nothing to do with betting. The UIGEA limits how funds can be transferred between accounts.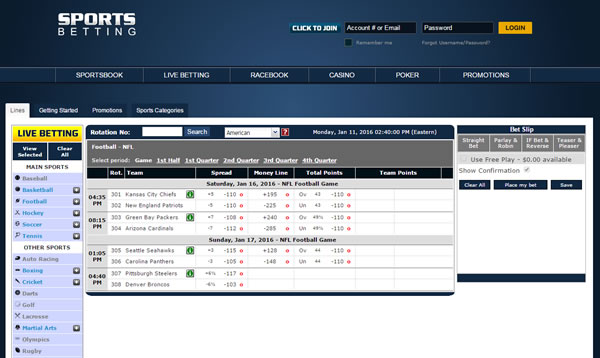 What Bonuses Are Available At SportsBetting?
If you love bonuses, you're in luck, because SportsBetting has more bonuses than you'll be able to handle. When you start out, you'll be eligible for the 50% welcome bonus. You can use this bonus on your first deposit only, and it has to be at least $25 but no more than $500. Please note that there is an 8x rollover requirement for this bonus, which means you have to spend eight times the amount of your deposit in order to receive your bonus. Go to the cashier and type in "SB50." This is a promo code that tells the site that you want to receive this bonus.
Even better than the welcome bonus is the reload bonus, which gives you anywhere from 25 to 50 percent off of every deposit of $50 or more. The maximum amount you can deposit and still receive your bonus is $1,000. The rollover requirement for this bonus is 10x. Other sportsbook bonuses include the $50 mobile betting free play and reduced juice for NHL betting. Reduced juice simply means that the interest on your bet will be reduced.
At this point, you may be thinking to yourself that the rollover requirements seem a bit much. Well, let me explain why they exist. It's so a player doesn't just sign up at SportsBetting just to use the bonus without ever betting any actual money. It's so the site doesn't get scammed. SportsBetting is a very trustworthy site, but it is a business, and has to make money to stay operational. The point of bonuses is to reward repeat customers with a little something extra.

What Other Special Perks Are Available at SportsBetting?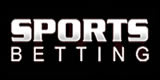 SportsBetting offers mobile betting, which gives you the power to use SportsBetting on your mobile phone. You can take the action anywhere you want to go. You can be sitting poolside, sipping that scotch with fine honeys all around you, and you won't have to miss your bet. Mobile betting is on the cusp of technological innovation, giving you access to one of the world's best sportsbooks any time you want!
Another terrific feature you'll find at SportsBetting is live in-game play. By signing into SportsBetting's live in-game page, you can watch the game live while you place your bets. See constantly updated odds and statistics, bet on current and future plays, and watch detailed recapitulations of the big game. It's a hands-on, interactive experience that will bring you one step closer to the roar of the crowd.