BetOnline Sportbook Features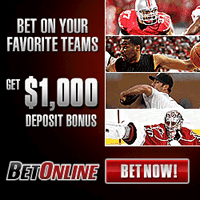 I've tried about a dozen different online sportsbooks over the years, and I can tell you with all honesty that BetOnline is definitely one of the best I've found. It's been in operation since 1991, and offers players a chance to bet on sports, casino games, horse racing, and poker. It is free to sign up and players from all fifty states are accepted, providing you are old enough to bet in your state. BetOnline has some of the most varied odds and wager types, a sportsbook for the ages, and incredible features like mobile betting and live play. Once you sign up with BetOnline, a whole new world will open up, take my word for it.
In this BetOnline review, I'm going to take you on a virtual tour of this trusted sports betting site. I'll explain all of the legal ins, outs, dos, don'ts, and what-have-yous, as well as safety and security issues. I'll school you on the various deposit and payout methods available, and I'll drop you some knowledge about bonuses and special features.
Is It Legal To Use BetOnline?
Yes. BetOnline operates legally and lawfully out of Panama. Since it is based outside of the United States, it is out of reach of US law. Don't let that scare you away, though. BetOnline has a stellar reputation. For more than two decades, it has been a benchmark of quality for millions of discerning bettors. BetOnline satisfies members' day in, day out with its sportsbook, poker rooms, table games, and horse wagering options. That being said, you might want to familiarize yourself with some legal basics. First, let's talk about PASPA.
The Professional and Amateur Sports Protection Act was introduced in 1992, during the height of mafia-related crime tied to sports betting. With the stroke of a pen, Congress wiped out the possibility of legal sports betting in 48 states. Lucky for Nevada and Delaware, they were given a year to write their own laws legalizing sports betting. So, flash forward more than two decades later, and the only sportsbooks based inside the US are in Nevada and Delaware. Strangely enough, anyone from any state can come to Vegas or Nevada to bet at land-based sportsbooks, but they can't take advantage of Nevada or Delaware's online options. For online sportsbooks, players have to look outside the US.
Is It Safe To Use BetOnline?

Yes. You should not have any major safety concerns when using BetOnline. I already mentioned its great reputation and millions of members. Did I mention it has a gaming license and has won numerous awards and certificates from the gaming industry? Or that it has been hyped by USA Today, Fox Sports, CNBC, and many other large companies? Or how about the fact that it has some of the best security software on the market today, including encryption, ciphertext, and password protection? What this means is that unauthorized users will never be able to access your information. Anyone who tries to get into your account will just see long strings of numbers and letters. BetOnline also uses top-grade anti-virus software to make you won't get any bugs in your system. You put all of these pieces together, and you've got a site that takes safety to a whole new level.
Will I Get In Trouble For Using BetOnline?
No chance. The law has no sway over BetOnline. The Wire Act, which prohibits the transmitting of betting info or money across state lines, doesn't apply to BetOnline because it isn't in the United States. So you don't have to worry about the Wire Act, or PASPA for that matter. The only US law that affects BetOnline at all is the Unlawful Internet Gambling Enforcement Act (UIGEA), which makes it so you can't withdraw from your account using a credit or debit card. This law caused quite a bit of controversy when it was passed in 2006. The UIGEA was stuck onto the end of a law that had nothing to do with betting, the Safe Port Act. The UIGEA had not been read by anyone in Congress. The law still is controversial almost a decade later. The long and the short of it is that there is no way for you to get in trouble, because there is no law that specifically targets the casual bettor.
Is How Do I Sign Up?
This is simple and takes just a few minutes. First, go to BetOnline's main page. Above the red tab that says "join now," you'll find some fields to enter some personal information. Once you've completed this information, click the red tab. You will be taken to a page where you will have to create an account and make up a password. Once you are done with this, click the red tab on the right of the page. Now that your account is active, you can start depositing money. In order to make a deposit, visit the online cashier. You will see a list of funding methods. Each method will have a link that says "more info." You will find all of the information you need about credit/debit cards, Western Union/MoneyGram, checks, and bitcoin. Each method that BetOnline offers is easy, fast, and foolproof.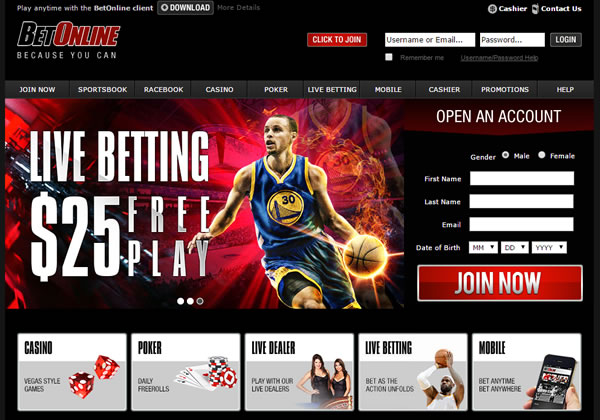 What Are Some Trusted Deposit And Payout Methods At BetOnline?
BetOnline has a surplus of great deposit and payout methods. Putting money in your account is as easy and painless as going to the online cashier and selecting a funding method. For deposits, consider using your credit or debit card. It's fast and easy. BetOnline accepts all the major brands. You have to deposit at least $50. There is a fee of about 6.5 percent for each credit card deposit. Western Union or MoneyGram is another fast way to deposit into your account. It's also known as "person to person" or "cash wire transfer." The nice thing about this method is that the fee is only 2%, and that fee is covered if your deposit is over $300.
BetOnline's list of payout methods is as varied as its list of deposit methods. Some of the options include person to person, which is very fast (12 to 36 hours) and has reasonable fees ($26 to $101). Or, check this out: there are three different types of checks you can use (by mail, by courier, or EXPRESS). You can deposit checks directly into your bank account for a smooth transfer of funds. Bitcoin and bank wire transfers complete the list of payout options available at BetOnline.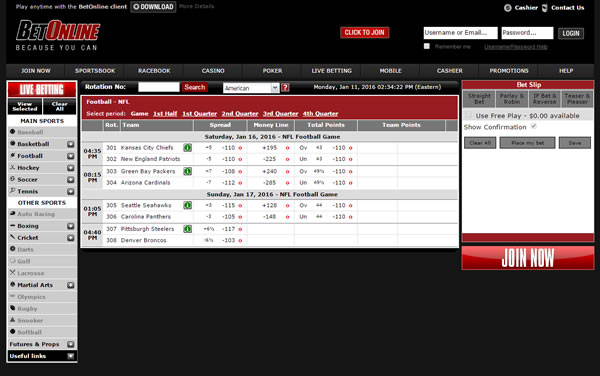 Will BetOnline Offer Me Money-Saving Bonuses?
Yes, this is one aspect in which BetOnline really excels. You will be offered a welcome bonus of 25 percent up to $1,000 just for joining. This works on any first deposit of at least $50. Even better than that is the 50 percent reload bonus, which can be applied to any bonus between $50 and $1,000. Or, try the $25 live betting free play. Please note that this bonus works for live betting only. if you lose your first live bet, you will get a refund of $25. Also available is the $50 mobile betting free play. Many other bonuses are available at well. Check BetOnline's bonus section to see a list.
All of these bonuses will enable you to win big, and the money you win can be used to win even more money. The bonus program is great for anyone who bets a lot. You should make sure that you read all of the rules and regulations regarding bonuses, because your bonus money could be forfeited if you don't fulfil all of the requirements. For example, most bonuses have rollover requirements. This means that you are required to spend a certain amount of actual deposit money before you can cash in a bonus. Also, you must type in the corresponding promo code in an email when you make your deposit. This code lets the site know which bonus you would like claim.

What Other Features Will I Find At BetOnline?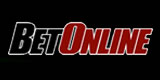 Two of the most popular features at BetOnline are live in-game play, which lets you bet on the game while watching it live, and mobile betting, which lets you use BetOnline from your portable/mobile device. Live in-game play makes you feel like you are right there, experiencing and participating in the action. You can bet on all kinds of different actions, plus watch play-by-play recaps of the game. The statistics and odds are updated very frequently, usually during the commercial breaks.
Mobile betting is the number one feature for anyone who values portability and convenience. Now you can use your iphone, smartphone, BlackBerry or droid to play the books wherever you happen to be. Let's say you are in a meeting with an important client, and there's no way you'll make it home in time for the big game. What do you do? Take a 5-minute break, bust out your mobile phone, sign in to BetOnline's mobile betting page and go to town. The nice thing about mobile betting is that you don't have to download anything. It's also completely free. All you have to do is sign up for mobile betting and the heat is on at this sportsbook with trusted sports betting!