Trusted Deposit And Payout Methods
An online sportsbook can have the best odds and money lines around, plus great bonuses and bells and whistles, but if you can't easily get your money in and out of your account, it's all for nothing. That's why funding methods are very important. This page will tell you all about the best deposit and payout methods available at trusted sports betting sites. You will learn all about the safety and legality of payouts and deposits. We'll also tell you about some of the safest and most trusted funding methods that sports betting sites offer.
Are Trusted Deposit Methods Legal?
Yes, they are. The laws that affect deposit methods are the Wire Act, a 1961 law that restricts the transfer of funds or information related to betting across state lines, and the Unlawful Internet Gaming Enforcement Act, a 2006 law that restricts the ways in which funds may be transmitted to and from accounts. The Wire Act is one of the reasons that online sportsbooks must be located outside of the US in order to be in compliance with the law. If an online sportsbook happened to be located inside the US (which it can't unless it's in Nevada or Delaware because of the Professional and Amateur Sports Protection Act), money would not be able to be transferred from one state to another because of the Wire Act. Because the sites we review are located overseas, however, there is no danger of breaking any laws.
Are Trusted Deposit Methods Safe?
Yes, these trusted deposit methods are safe. All of the money transfer services that these legal sites employ are well-known and reputable. You can use any of the major credit cards to make a deposit, as well as Western Union, MoneyGram, and Bitcoin. Since every trusted sports betting site is on a secure and encrypted server, you can rest easy knowing that no one will be able to get access to your account information. All of these trusted sports betting sites are licensed and legit. Millions of satisfied members log in each and every day to deposit money into their accounts.
What Are The Best, Most Trusted Deposit Methods?
There are a ton of great deposit options available. Let's look at a few of the most popular methods. The first is credit/debit card. I'd be pretty surprised if anyone reading this didn't have at least one card. Most sites at least accept Visa, Discover, MasterCard, and American Express. Each site has a different minimum and maximum deposit. The minimum is typically around $50. The maximum varies much more, anywhere between $500 and $3,500. Some sites don't have any fees, and others have fees of around 6.5 percent for every deposit. Credit card transfers don't take very long, usually just a few seconds. Western Union/MoneyGram is another easy-peasy way to deposit funds. Known as person to person or cash wire transfer, this is a simple method that takes less than two hours, with minimums/maximums usually around $100 and $970. There are minimal fees with person to person, but most sites will waive the fees if your deposit is over $250. Many other deposit methods are at your disposal, such as money orders, which are nice if you want to deposit a lot of money because there is no maximum. If you do most of your business transactions online, you might want to give bitcoin a shot. It converts your money into e-currency, which can be transferred to and from sportsbook accounts.
What Are The Best Trusted Payout Methods?
There are a whole bunch of fun and easy payout methods that you can trust. If you want to use MoneyGram or Western Union, you can make a person to person withdrawal. It takes anywhere between 12 and 48 hours, with fees varying from $10 to $75. Cashier's check is another good payout method. It takes less than two weeks, and has a high minimum of $7,500. One of the best method is the Walmart gift card, which doesn't have any limits or fees at all. Finally, bitcoin is a form of e-currency that can be electronically transferred using a bitcoin address. Bitcoin works especially well if you use it to make deposits and withdrawals.
Are These Payout Methods Legal?
Yes, trusted payouts are legal. Similar to deposit methods, payout methods are affected mainly by the Wire Act and the UIGEA in that they have to function overseas in order to be legal. One of the main ways that the UIGEA affects payouts is that credit or debit cards may not be used. Other than this one regulation, the UIGEA does not really affect offshore sites in a major way. Any site that is based outside of the United States does not have to abide by United States law, and is legal. Additionally, nowhere in US law does it say anything about not being able to use a trusted online betting site.
Are These Payout Methods Safe?
Yes, trusted payout methods are safe. As long as you are using a reputed sports betting site, you can be sure that you will receive your money. Millions of happy members use trusted online sportsbooks all the time. If these sites did not have reputations for paying out promptly, no one would ever use them. The security features on these trusted sites are top-game. Encrypted servers ensure that scammers or swindlers will not fleece you. Also, all of the services you can use to make withdrawals have excellent reputations.
Will I Get In Trouble For Making A Withdrawal?
No, because you won't be breaking any laws. You need to understand that the law isn't in place to punish regular bettors. The law is meant to go after people who are involved in major criminal activity. In fact, you are much more likely to get in legal trouble if you seek out an underground, unlicensed bookie. The sites that we recommend are licensed and accept American players, so you really don't have anything to worry about. After all, it's your money, and you are free to do with it as you wish.
BetOnline Sportsbook
- Quick Withdrawal Processing Times!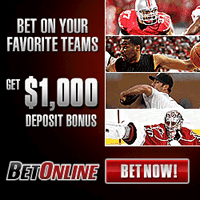 The popularity of sports betting has surged over the past decade. Billions and billions of dollars are wagered on sports competitions every single year. With numbers like that, it is no wonder that BetOnline is bigger than ever. This trusted sports betting site has had nearly 25 years to achieve the status that it now has. Any player from any of the fifty US states can legally join as long as they are of age. Signing up is free of charge and takes just a couple minutes of your valuable time.
At BetOnline, there are several different ways to put money into your account, and withdrawal your winnings. Credit or debit card is the easiest option for deposits. For a fee of just 6.5 percent, you can use your MasterCard, Visa, AmEx, Discover, JCB, or Diner's Club card to make deposits of $50 or more. It only takes seconds to see your money magically appear in your BetOnline account. If you plan on doing some serious betting, you might want to consider a bank wire transfer, because this method has no maximum limit and no extra fee. Also, you can withdrawal with this method. If you do most of your business transactions online, you might like Bitcoin, which is a form of electronic currency. For more information on these and other funding methods, check out BetOnline as soon as you can.
Sportsbook
Promotion
Review
Play Now